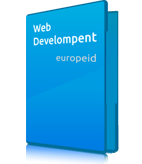 Create your brand new website with EuropeID experienced professionals
You can now use our experienced Designers, Webdevelopers and Webmasters to upgrade your company on-line presence. All with functional and properly designed web applications by EuropeID. Basing on the newest technologies we are capable of creating both - large company websites, web stores, e-commerce solutions or individual websites.

Our services
Responsive
Web Creation
Don't deny your Clients from seeing your website on their preferred device. Each website designed by EuropeID is responsive and tailored properly to any screen size - all up to the most recent web-development standards.

Web Commerce and
E-commerce Solutions
One of our strongest assets is e-commerce. Among many other features we offer unlimited products and categories, many delivery options, high security and on-line payment gateway that include PayPal and Credit Cards.

Graphic
Design
When needed - we could handle also the graphical side of your on-line presence. We can create logos, banners and other graphics, flyers, business cards, as well as full page layout designs.

Webmarketing
and SEO
Our goal is to make your website user friendly and popular. You can use our experience in e-marketing and Search Engine Optimization to improve your search engines rank, such as Google, and attract more relevant traffic to your pages.

Our Technologies

WordPress
WordPress is the most known framework in use for website management. More precisely, over 60 million websites are based on WP. Today 30% of global top sites is WordPress. As many users agree, its comfortable backend control panel keeps website administration intuitive, simple and fast.

WooCommerce
WooCommerce is based on WordPress open-source extension for e-commerce. Thanks to an easy installation and settings modification, almost 18% of all online shops have decided for this plugin– with some of our modifications it would also be perfectly tailored to also serve for yourself.

Let's Encrypt SSL
In order to secure privacy and integrity of your data transmission, we provide free Transport Layer Security (TLS) extension for SSL for newly created websites. We serve your content through secure HTTPS protocool.

ePay Payment Gateway
ePay – great & secure solution for handling your on-line transactions. With this payment gateway you can receive Internet payments immediately, using Payment Cards, Credit Cards, on-line banking, PayPal and more.

PrestaShop
This open source standalone software for e-commerce gives multiple options for complex on-line shops. PretaShop has comment, banner and order analysis system. It also allows you to create individual graphic templates and install additional external modules, increasing the quality and functionality of the store. Great solution for medium-sized and big business on international market.

WPML
Every website we create using WordPress framework optionally contain WP Multilingual Plugin. Using WPML is almost as simple as working with WP administration panel – doesn't require any technical or programming skills. With this plugin you can operate in many languages and make it more available for international customers. EuropeID is an official accredited supplier of WPML licenses.
Why EuropeID?

Complete and experienced team
Our company has been on the market since 1998. Through all these years we have gained priceless experience that helped us to build a great Team of Designers, Developers and Webmasters.

Manage your website with friendly panel
Any website we provide comes together with an user friendly control panel. Helpful backend that would allow you manage pages, media, texts and all the settings. Keep your website updates simple and easy.

Individual approach
We find it important to listen to clients' needs and create personalized websites. We make sure you won't find any identical solution as yours in the whole Internet.

Responsive design
Each website created for our clients meets the newest Responsive Web Development (RWD) standard. As a result you receive functional website that is comfortably used on variety of devices such as computers, tablets or phones, independently of the selected screen size.

Be the part of the project
Feel free to decide if you wish to be a great part of your website designing. Stay in contact with our team and follow the whole process. Inform us about any of your suggestions and ideas.

Web hosting, SSL certificates and addons
Find all you need in our offer to get coherent website. We will not only provide you our web-development services but also offer web hosting, high standard secure SSL certificates, payment gateway and more – all services in one place with no overpaying.

Modernization and Optimization
Would you like to refresh your old, outdated, slowly working website? EuropeID offers an improvement of your site look and functionalities by adapting it to the newest internet standards and optimization. Fixing your website will help you raise users satisfaction and reach higher ranks in search engines such as Google.

Latest technologies and trends
We want to make sure that website your receive will satisfy your needs and current Internet standards. For every website design we use technologies of the highest quality, tested and certained solutions, following the latest trends.
Our Clients
Need a quote? Please fill up the form

Contact us