Belgian Domain Celebrates 1.5 Million Registrations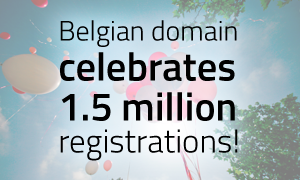 Publication date of the article: February 17, 2015
The registry of .BE domain has just reported 1.5 million domain names registered within the Belgian country code domain.
The .BE namespace has enjoyed continued growth over the years. Most recent statistics show that there is one registered .BE domain name for every 10 people in Belgium. Last year, there was a rise in the number of operating .BE domains of 4,05%, the registry's records suggest. Moreover, the renewal rate continues to be high and is expected to be around 86% in 2015.
One-millionth domain name under .BE was registered in February 2010. Since then, about 500,000 Belgian domain names have been registered. This is the result of outstanding reputation the Belgian domain has earned over time.
Up to date, there are 1,500,118 domain names registered within the .BE namespace, according to the Belgian registry.
If you are interested in a Belgian domain name, you can use our search tool to see if the name you are looking for is available. For more information or assistance, please contact our Support Team at support@europeid.com or via phone on +44 (0) 20 4571 1971.
Domain search
Site search
WHOIS

.BE regulations summary:
No restrictions.
Pricing and requirements for .BE domains, Belgium:
1 Year registration: EUR 90.00
Local company required: NO
Local contact person required: NO
Registration time frame: 1 day(s)

For more information on registering .BE domain names please refer to:
.BE domain names registration

Go to archived news

Archives

Check what is on offer