.CN's Dynamic Growth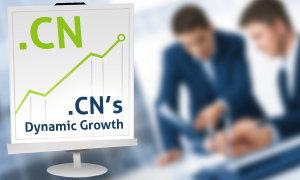 Publication date of the article: January 20, 2016
The number of registrations in the Chinese extension .CN has recently outperformed the German domain .DE, attaining 16.4 million registrations.
The long-time "champion" among ccTLDs worldwide, .DE extension, has been overthrown by the .CN domain as a result of the strong growth of the Chinese extension, according to Xinhuanet.com. At the end of December 2015, the number of registrations under .CN was 16,363,594 in contrast to 14,991,015 the end of November 2015. At the same time, the German ccTLD has been experiencing a decline. The number of registrations within .DE fell from 16,019,419 at the end of November 2015 to 16,009,814 at the end of December 2015.
The significant growth of the .CN domain can be attributed to greater access to the Internet in China as well as the increasing number of Internet users in this dynamically developing economy.
The .CN extension is the number one choice for institutions and organisations as well as all central and provincial governmental entities. Most telecommunication companies and commercial banks also opt for the .CN address. Moreover, a great number of multi-nationals have registered .CN domain names in order to maximise their presence on the Chinese market and reach Chinese consumers online.
The chart below shows the figures for the first and second levels of the .CN domain.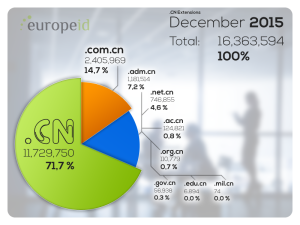 Globally, the .CN domain places second, following the .COM with 123,889,787 registrations worldwide. The German domain .DE comes in third, followed by legacy domains .NET and .ORG.
The top ten domains as of the beginning of January 2016, according to the .DE Registry, are presented below: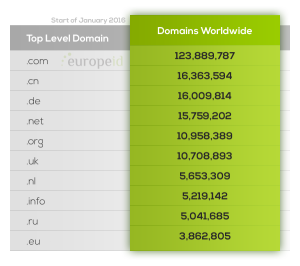 Joining the global community of active Internet users can help you strengthen your presence online. You can do it with a unique and memorable address under a country code domain. In order to check name availability, please click the domain of choice and enter the name in our search tool.
For assistance, please contact our support team at support@europeid.com.
Domain search
Site search
WHOIS

.CN regulations summary:
No restrictions apply. Anyone can register any number of Chinese .CN domain names.
Pricing and requirements for .CN domains, China:
1 Year registration: EUR 169.00
Local company required: NO
Local contact person required: NO
Registration time frame: 2 day(s)

For more information on registering .CN domain names please refer to:
.CN domain names registration

Go to archived news

Archives

Check what is on offer