.EU Reports Net Growth of 0.2% in Q4 2015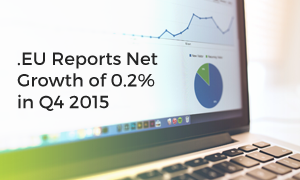 Publication date of the article: February 10, 2016
The number of domain names registered in .EU rose by 7,937 in the fourth quarter of 2015.
According to the progress report issued by the .EU Registry, the domain shows the net increase of 0.2% in the number of registrations in the fourth quarter of 2015. The total number of domains registered under .EU at the end of that reporting period was 3,862,467.
Overall, 25 of the 31 EU member states and eligible European Economic Area (EEA) countries reported growth in registrations under .EU. Liechtenstein can boast the highest increase of 22.7% in Q4 as compared to Q3. The domain grew by more than 4% in Iceland, Croatia, Luxembourg and Norway whereas Germany, Netherlands and France are the countries with most .EU registrations.
Year over year comparison of Q4 results in 2015 and 2104 demonstrates a decline of 1.2%, or 44,939 domain names, in the total number of .EU registrations. The fall is caused partly by the substantial deletions of domain names as a result of the Registry's plan to clean its WHOIS database.
The report demonstrates the 77% renewal rate of .EU in the fourth quarter of 2015, just 3% below the average rate reported over the period of last 9 years. At the end of December 2015, the total number of accredited .EU registrars was 734. Moreover, Q4 saw the delegation of the .EU domain in Cyrillic.
The .EU domain has long been a TLD of choice for a great number of companies, institutions and individuals who wish to highlight their affiliation with the Old Continent. It is a relevant and reliable alternative to a .COM address.
Please use our search tool to check if the name you are looking for is available. If you need assistance, please do not hesitate to email us at support@europeid.com.
Domain search
Site search
WHOIS

.EU regulations summary:
Applicant must be located within the European Union or EFTA. EuropeID provide a Local Presence/Trustee service at no additional cost for applicants located outside this geographical area.
Pricing and requirements for .EU domains, Europe:
1 Year registration: EUR 69.00
Local company required: YES
Local contact person required: NO
Registration time frame: 1 day(s)
Trustee service fee (if required): EUR EUR
For more information on registering .EU domain names with and without Local Trustee Service please refer to:
.EU domain names registration with local presence

Go to archived news

Archives

Check what is on offer