Finnish Namespace Can Be Trusted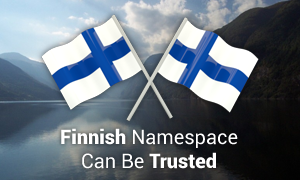 Publication date of the article: February 23, 2015
The demand for reliable Finnish domain names keeps growing as evidenced by about 50,000 new names registered under .FI per year. It ranks 22nd in popularity among other European domains.
There are more than 362 000 valid domain names under .FI currently, and the number of names is expected grow in the coming years. Since the .FI domain was introduced in 1997, the number of Finnish domain names registered under the extension has grown to be fourty times the initial number.
Current statistics show that about 13 percent of domains under .FI are held by private individuals whereas about 80 percent belong to organisations. The Finnish extension's success is largely due to its remarkable reputation as one of the safest domains across the world. The introduction of reinforced security measures by the Finnish domain authority has helped establish the .FI extension as a trustworthy and reliable namespace on the net.
The core element of the improved .FI domain name security service is the DNSSEC (Domain Name System Security Extension) which boosts the information security of the name service. Additionally, the service safeguards the integrity and origin of information, preventing altering information exchange.
A further improvement due in September of 2016 is transitioning entire .FI domain services to the international registry-registrar model which will allow customers to receive all their domain services at one place – their own trusted registrar. This popular and widely adopted service model ensures coherence and registration of names within various domain extensions all under one roof.
EuropeID is a reliable registrar providing domain name services to clients world wide. With 17+ years of experience, we pride ourselves on top quality customer care and speedy service. We are also a global leader in providing Local Trustee Service for domains with restrictions such as local representation like .FI domain, for example.
If you need help with registering a Finnish domain name, one of our experienced support staff will take you step by step through the process and answer your questions on the way. Just give us a call on +44 (0) 20 4571 1971 or contact us at support@europeid.com.
Domain search
Site search
WHOIS

.FI regulations summary:
There are no restrictions for registering a .[ccTLD] domain name.
Pricing and requirements for .FI domains, Finland:
1 Year registration: EUR 167.00
Local company required: NO
Local contact person required: NO
Registration time frame: 1 day(s)

For more information on registering .FI domain names please refer to:
.FI domain names registration

Go to archived news

Archives

Check what is on offer