Introduction of Direct Registrations in .AU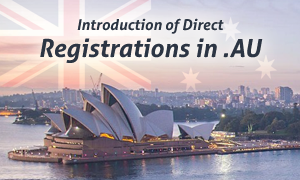 Publication date of the article: April 21, 2016
The Australian Domain Registry has recently approved direct registrations within the .AU domain, for example "yourname.au".
At the moment, all .AU domain names are registered in a second level domain, such as "yourname.com.au" or "yourname.net.au". According to the survey conducted by the .AU Registry and sent to 97,000 selected at random registrants in COM.AU, NET.AU, ORG.AU, ASN.AU and ID.AU, 60% of participants seem likely or highly likely to register a "yourname.au" name, if it was available.
The report issued by the Registry's Names Policy Panel based on the results of the survey, concludes that introducing direct registrations in .AU would:
make it possible to create shorter and more memorable .AU names
present Australians with more naming choices
acknowledge market demand
offer natural individuals more attractive naming option than the current .ID.AU
strengthen the ".AU brand" globally
bring additional value to the .AU domain name system in respect to various user operations: registrars, resellers, and registrants.
The next phase in the process of implementation of direct .AU registrations is establishing the best approach by developing detailed policy and carrying on stakeholder consultation.
Further announcements from the .AU Registry on the progress of the implementation work are expected during the year.
In the meantime, you can still register memorable .AU domain names even if you do not have local presence in Australia – please check out our Local Presence Service. Use our search tool to find out if the name you are looking for is available. If you have questions or require more information about .AU domains, please contact us at support@europeid.com.
Domain search
Site search
WHOIS

.AU regulations summary:
At present, it is not possible to register second level domain names under .AU. The primary Australian domain for business is .COM.AU. Please click the links below if you wish to search and register .COM.AU and other Australian domains:
Pricing and requirements for .AU domains, Australia:
1 Year registration: EUR 142.00
Local company required: YES
Local contact person required: YES
Registration time frame: 3 day(s)
Trustee service fee (if required): EUR EUR
For more information on registering .AU domain names with and without Local Trustee Service please refer to:
.AU domain names registration with local presence

Go to archived news

Archives

Check what is on offer