.ME Has Passed 1M Registrations Mark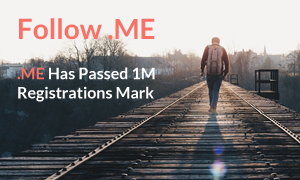 Publication date of the article: March 22, 2016
The total number of domain registrations under the .ME extension has just surpassed 1 million, according to .ME Registry.
The country code domain of Montenegro, .ME grew by 28% last year. Not only is the domain marketed to the citizens of the Montenegro but it is also very popular among Internet startups and innovators.
The catchy extension is often used for creating domain hacks, where the extension is the meaningful element of the address, for example domain.me.
Lots of Internet users have already joined the .ME community and have successfully marked their unique presence online. If you think .ME address would work for you, feel free to use our search tool to see if the name you need is available. For assistance, please contact us at support@europeid.com.
Domain search
Site search
WHOIS

.ME regulations summary:
No restrictions apply.
Pricing and requirements for .ME domains, Montenegro:
1 Year registration: EUR 93.00
Local company required: NO
Local contact person required: NO
Registration time frame: 0 day(s)

For more information on registering .ME domain names please refer to:
.ME domain names registration

Go to archived news

Archives

Check what is on offer