.XYZ Expanding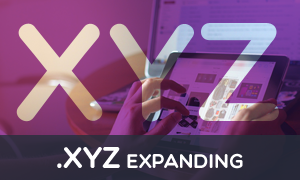 Publication date of the article: March 11, 2016
The two-year old .XYZ extension has just overshadowed the fourteen-year old .BIZ.
.XYZ does not stop to amaze. The number one domain in the new TLD ranking, .XYZ has attained nearly 2.6 million registered names within two years of its operation, outdoing the legacy domain .BIZ with 2.3 million name registrations at the time.
The .XYZ domain is the fifth largest generic TLD, according to RegistrarStats.com, trailing behind the uncontested .COM (125.2 million registrations), .NET (15.6 million), .ORG (11 million), and .INFO with 5.4 million registered names.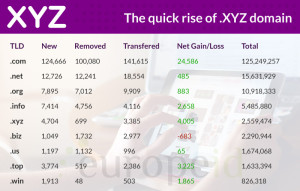 The quick rise of the .XYZ domain is very impressive, and, furthermore, outperforming the .BIZ extension can be seen as a considerable achievement.
It is also noteworthy that .BIZ's performance has been rather poor over the recent years. In 2014, the number of .BIZ names exceeded 3 million, but then it began to decrease. One of the causes may have been the launch of the new gTLD program. The success of new generic extensions is likely to stem from their use as an alternative to .COM as well as country code domains. Eventually, the recovery of the .BIZ domain will depend on how it can cope with the intensifying competition from new TLDs.
For .XYZ to outperform the next domain in the ranking, .INFO, it would have to grow by over 100 percent. Another dynamically growing extension is .TOP, which currently shows 1.6 million registered names.
The nTLD Program was launched in 2012 by the International Domain Authority in order to offer Internet users more naming choices and enhance competition online. Hundreds of new generic extensions have already been made available to registrants who can obtain more pertinent and memorable Internet addresses.
To check if the name you are looking for is available, please check the wide selection of new gTLDs we have on offer, and use our convenient search tool. For assistance, please contact our support desk at support@europeid.com.

Go to archived news

Archives

Check what is on offer