Register modern .STORE domain and highlight your shop presence online.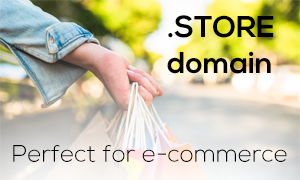 Publication date of the article: May 30, 2019
STORE domain – perfect for e-commerce
It is the perfect domain extension for your website, to stand out of the crowd from numerous e-commerce websites and catch client's attention with simple and readable name. Moreover, with this domain, you can count on following benefits.
Dreamed name
Compared to the more popular .COM or CCTLDs (like .DE, .UK or .FR domains), with .STORE you have a better chance for your dream site name to be still available. The address of your domain will be simple and clear, easy to remember. Even more, you do not have to add key words to the page name so that customers know what the scope of your business would be – this is provided out of a box simply by the sole .STORE extension.
Email address
One of the advantages of registering this new generic TLD is getting your own personalized e-mail address. From now on contact with your company will be more professional, and the address containing the name of your company will be less often landing in the SPAM mailbox.
SEO
It would seem that pages with popular extensions such as .NET, .EU or .DE will be higher positioned in most common search engines. However, according to the latest Google reports, all Top-Level domains are subject to the same rules.
Marketing
When having your own website under your own domain, you can focus on taking care of digital marketing for your company. Currently, it is an extremely effective way to acquire new customers who in many cases look for services and references online. Skillful use of this element will pay off on the future development of your company.
Domain search
Site search
WHOIS

.STORE regulations summary:
.[ccTLD] can be registered both by individuals and companies, a local administrative contact is not necessary.
Pricing and requirements for .STORE domains, E-commerce & Consumer Niche:
1 Year registration: EUR 134.00
Local company required: NO
Local contact person required: NO
Registration time frame: 0 day(s)

For more information on registering .STORE domain names please refer to:
.STORE domain names registration

Go to archived news

Archives

Check what is on offer