.STORAGE and .BOSTON – New Domain Extensions Now Are Available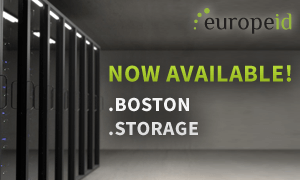 Publication date of the article: November 16, 2017
.STORAGE and .BOSTON are new domain extensions that have already been launched for sale and are waiting for your registration.
The .STORAGE TLD is an unrestricted, generic domain extension that creates instant recognition for storage businesses and facilities of all sizes like boat/car warehouses, self storage, warehouses or home moving companies. There's plenty of purposes of this unique TLD. It may be also used by wide angle of IT sectors: database management, data centers, hosting providers cloud services and many others.
The .BOSTON domain name extension are available since 10th of October 2017. It's a perfect extension for growing start-ups, restaurants, shops, or any other business from around the Boston City (either USA and UK). It's a great opportunity to reach customers from your area.
According to analysis, over 1500 domains are now in use and this quantity is still growing up.
If you think that the domain extension .BOSTON or .STORAGE is an attractive option for you, please use our search tool to check if your domain name is available. In case you'll need out support please contact us here: support@europeid.com.

Go to archived news

Archives

Check what is on offer