EuropeID Help Center
Domain search
Site search
WHOIS


Customer Support Information
Sending mail to SMTP Relay with Authentication - How to send e-mails with SMTP Auth in Joomla
How to send e-mails with SMTP Auth in Joomla
There is an built-in solution to send e-mails from Joomla to an outgoing SMTP server using SMTP authentication.
To get started, log into the Administration area (the back end) of your site, and go to Global Configuration. Inside Global Configuration, go to the "Server" tab.
Locate the "Mail Settings" to configure your SMTP settings.
Configure it with the following options:
Send Mail: Yes
Mailer: SMTP
SMTP Authentication: Yes
SMTP Security: SSL
SMTP Port: 465
SMTP Username: your-mail-username (usually your full e-mail address)
SMTP Password: your-password
SMTP Host: mail.web-solutions.dk
Please see the screenshot for reference: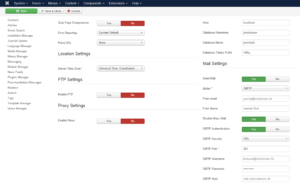 Check what is on offer